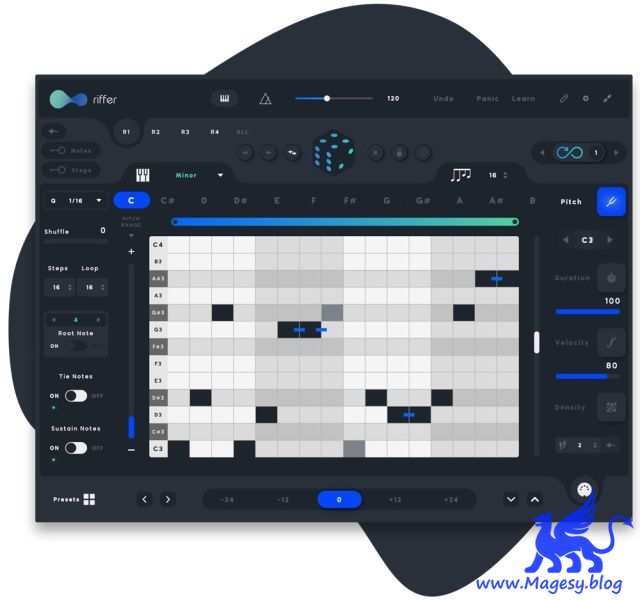 Riffer v3.0 WiN MAC
Team FLARE | 11 April 2021 | WiN: 7.95 MB | MAC: 14.4 MB
..:: AU, VST2, VST3, AAX, x86, x64 ::..

What is Riffer? Riffer is a smart MIDI tool that generates musical Riffs & Sequences by combining Pitch, Duration, Velocity & Density. Built for your sounds, Software & Hardware. Turn them into something of your own or let it run endlessly using the infinity mode.
Features:
• Generate Random Riffs
• Everything is Synced to your Host tempo
• 53 Scales included from Western to Eastern
• Create & Save your own scales
• Choose the number of notes generated
• Set the number of root notes based on chosen scale
• Generate pattern Pitch, Duration & Volume per note
• Tile or Sustain Paused Notes
• Lock individual Notes or whole Steps
• Quick-Export MIDI pattern
• Quick Transpose whole pattern
• Quick Load preset Section
• Choose Quantization settings
• Suffle & Shift Mode
• Advanced Infinity Mode
• Set Sequence range & Motion Settings
• Set Range for Pitch, Duration and Velocity
• Save & Load your own patterns
• Send MIDI to any Device, Software & Hardware
• Advanced MIDI CC/Mapping editor
• No Two Patterns will Ever be the Same
• The only Plugin available of its Kind!
Newest Release:
v3.0 – 07 Dec. 2020
• Polyphonic Mode / Multi-Riff Engine
• Density Function
• MIDI Input / Performance Mode
• MIDI Learn
• Share Presets Across Devices (Desktop/iOS)
• Performance Improvements (Desktop/iOS)
Big Thanks to Team R2R for providing us their custom Windows installer script!
INFO/DEMO/BUY: https://mage.si/agKj
Riffer v3.0 WiN MAC-FLARE
http://beelink.in/46523/Riffer-v3.0-WiN-MAC/